Considered as one of the most important aspects of any gas to gas or gas to liquid type of heat-exchanger, finned tubes are compact units of vigorous and damage-resistant construction.
The outside surface of fin tubes is covered with small fins. The role of these fins is to act as a transfer process and filter. The heat transfer is generally from inside to the outside and reverse. The rate of heat transfer by a particular type of fin tube can depend upon:
Temperature difference between the fluids/gas
Heat transfer between the fluids and the walls of the tubes
The exposed surface
There are various types of finned tubes that finned tube manufacturers produce. And the type required for a particular process depends on the process equipment unit.
G-Type finned tubes are known as embedded-fin tubes where g means grooved. They are formed by twisting a fin strip made of copper or aluminium into a machined groove and back-filling to secure the lock. Base tube material is filled. The G-type fin tube is strong as compared to other tubes. Hence, it is widely used where high-temperature heat transfer is required.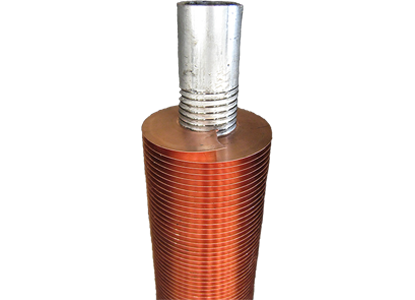 G-Type Finned Tube Features
Compact design
High-performance
Easy installation
Less space required
Less cabling
Optimized surface
Finest technology used
Average corrosion protection
Less energy consumption
Increased reliability
Low maintenance
High mechanical resistance
In G-type finned tubes, the fins are prepared by embedding the metal strip into a groove. The latter is formed on a base tube. Placing the fin on it, back-filling is done – resulting in strong attachment of the fins to the base tubes. Hence, the name G-Fin Tubes has come up. The three processes mentioned above are carried out simultaneously. Maximum heat transfer is expected out of the g-fin tubes as the fins are strongly attached to the base tube.
The G-type finned tubes usually work at high temperature (with around 400 degree Celsius) applications. Made of copper, carbon, or aluminium, these fins have comparatively less resistance towards atmospheric corrosion. On the other hand, mechanical resistance is acceptable. Stainless steel and carbon steel fin materials are also used, but particular processing and tooling of the steel fin strips are necessary. Air coolers, radiators, etc use the g-fin tubes.
Industries Where G-Type Finned Tubes Are Used:
Rubber plants
Power plants
Petroleum industries
Chemical industries
If you are looking for G type fin tubes or grooved fin tubes, get in touch with the experts at Anand Seamless Tubes Pvt. Ltd. by calling +91-9099996851. We can help you choose the most relevant product as per your needs.
lATEST BLOG
Applications of Cold-Drawn Tubes in the Automotive Industry
In the dynamic and ever-evolving landscape of the
Complete Guide to Cold-Drawn Seamless Tubes
In today's industrial landscape, the demand
Carbon Steel Seamless Pipes in the Oil and Gas Industry
The oil and gas industry relies on a vast network
Applications of Mechanical Tubes in Different Industries
In today's rapidly evolving industrial lands
Alloy Steel Tubes Vs. Carbon Steel Tubes: Know the Difference
When it comes to selecting the right material for