Seamless pipes and tubes are indispensable in numerous industries, making the selection of a reliable supplier paramount. As a renowned carbon steel seamless pipes supplier and exporter based in India, we recognize the significance of choosing wisely. In this article, we share vital tips to help you identify the ideal seamless pipe supplier for your specific business requirements.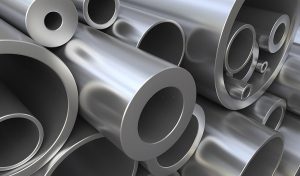 Essential Considerations to Pick the Best Seamless Pipes Supplier
Ask About Certifications and Qualifications

One of the first things to consider when looking for a seamless tubes and pipes supplier is their certifications and qualifications. A reputable supplier should have the necessary certifications to ensure their products meet industry standards and regulations. Look for certifications such as ISO 9001:2015. These certifications indicate that the supplier follows strict quality control processes and produces high-quality seamless pipes.
Check the Resources

Before finalising a supplier, it is important to assess their resources. Consider factors such as their manufacturing capabilities, infrastructure, and technological advancements. Suppliers with state-of-the-art manufacturing facilities and advanced machinery are more likely to deliver superior-quality seamless pipes. Additionally, check if they have a robust supply chain and is capable of meeting your bulk or customised requirements in a timely manner.
Take Product Quality into Account

Quality should be a top priority when making the choice. Poor-quality pipes can result in costly repairs, maintenance, and potential safety hazards. Ensure that the supplier has a comprehensive quality control process in place. This may include material testing, dimensional inspections, and non-destructive testing methods. Request samples or visit their manufacturing facility to assess the quality of their products firsthand.
Consider the Price of the Seamless Pipes

While quality is important, it is equally essential to consider the price. Research the market and compare prices from different suppliers. However, keep in mind that the cheapest option may not always be the best. Look for a manufacturer that offers a balance between quality and affordability. Consider long-term benefits such as durability and reliability when evaluating the price of the pipes.
Find Out About Their Testing Strategy

Seamless pipes and tubes undergo various tests to ensure their integrity and performance. Inquire about the supplier's testing strategy and the types of tests they conduct on their pipes. Common tests include hydrostatic testing, ultrasonic testing, and visual inspections. A reputable company should have well-defined testing procedures in place to ensure that their pipes meet the required standards and specifications.
Evaluate Customer Support and After-Sales Service

A reliable seamless tubes supplier should provide excellent customer support and after-sales service. Look for a company that is responsive to your inquiries, provides prompt assistance, and resolves any issues efficiently. Additionally, inquire about their warranty policies and the availability of technical support. A supplier that values customer satisfaction will be committed to building long-term relationships and providing exceptional service.
Perform Online Research

Conduct thorough online research to gather information about the supplier. Look for their website, social media presence, and any online reviews or ratings available. Pay attention to positive and negative customer feedback to get a well-rounded view of their reputation.
Industry Networks and Associations

Check if the supplier is associated with industry networks or trade associations. Membership in reputable organisations can indicate their commitment to professionalism, quality, and adherence to industry standards.
Questions to Ask When Picking a Seamless Pipes Supplier

When finding the right supplier for your business needs, asking the right questions is essential. Here are some of the questions to consider:
1. What is your production capacity?

Knowing the production capacity of a seamless pipe supplier is crucial, especially if you have specific quantity requirements. Ask about their production capabilities and if they can meet your demands consistently. It's important to ensure they can handle your order volume and deliver on time.
2. What is the lead time for production and delivery?

Understanding the lead time is essential for planning your projects and managing timelines effectively. Inquire about the time it takes for the manufacturer to produce and deliver the pipes. This will help you assess their ability to meet your deadlines and avoid any delays in your operations.
3. Can you provide references or testimonials from past clients?

Requesting references or testimonials from past clients is a great way to gauge the reputation and reliability of a seamless pipes supplier. Ask for contact information of businesses that have worked with the company and reach out to them for feedback. Positive testimonials and recommendations from satisfied customers are indicators of a supplier's trustworthiness and quality of service.
4. Do you offer customisation options?

You must check if the supplier can accommodate your needs if you require specific dimensions, coatings, or other customisation options for your seamless pipes. Inquire about their capabilities for customisation and discuss your requirements in detail. A supplier that offers customisation options can provide tailored solutions to meet your unique specifications.
5. What is your inventory management system?

Inventory management plays a significant role in ensuring a seamless supply chain. Ask the supplier about their inventory management system and how they handle stock levels. Inquire about their ability to maintain adequate stock of seamless pipes to meet your ongoing requirements. A supplier with efficient inventory management processes can minimize the risk of stockouts and delays in fulfilling your orders.
6. What are your payment terms and conditions?

Discussing payment terms and conditions upfront is essential to avoid misunderstandings or conflicts later. Inquire about the payment methods accepted by the supplier, payment schedules, and any other relevant financial details. Clarify any queries regarding pricing, discounts, or additional charges to ensure a smooth transaction.
7. What is your return policy?

It is important to be aware of the supplier's return policy if you encounter any issues with the seamless pipes. Inquire about their policies for product returns, exchanges, or refunds. Understanding the supplier's approach to handling product defects or discrepancies will give you peace of mind and ensure a fair resolution in case of any problems.
8. Do you have a sustainability or environmental policy?

In today's environmentally conscious world, many businesses prioritise suppliers that demonstrate a commitment to sustainability. Ask them about their sustainability practices, environmental policies, and any certifications they may hold. Choosing a manufacturer that aligns with your sustainability goals can contribute to your overall corporate social responsibility efforts.
9. What is your packaging and handling process?

Packaging and handling are important considerations to ensure that the seamless pipes are protected during transit and arrive at your location in optimal condition. Inquire about the supplier's packaging methods and materials to safeguard the pipes. Ask if they have measures in place to prevent corrosion, damage, or contamination during transportation. A supplier that pays attention to proper packaging and handling demonstrates their commitment to delivering the pipes in excellent condition.
10. What is your track record for on-time deliveries?

Timely delivery is crucial to ensure that your projects stay on schedule. Inquire about the supplier's track record for on-time deliveries. Ask about their delivery process, logistics capabilities, and any measures they have in place to ensure prompt and reliable shipment of the seamless pipes. A supplier with a proven track record of meeting delivery deadlines is more likely to provide a hassle-free experience for your business.
Anand Seamless Tubes – Your Trusted Seamless Pipes Supplier

Are you searching for the best seamless pipe supplier in India? Anand Seamless Tubes is here to meet all your needs with unparalleled quality and service. We take pride in being the industry leader, and here's why we stand out from the competition:
Industry Experience and Expertise: With years of industry experience, our dedicated team understands the complexities of seamless steel pipes. We provide expert consultation and guidance to ensure you make the right investment decision. Whether you need assistance with material selection, specifications, or applications, we are here to help.
Uncompromising Quality: Quality is our top priority. Our seamless tubes and pipes are manufactured under strict quality control measures, adhering to various international standards. Our engineers meticulously check every product to ensure superior quality and performance. When you choose us, you can trust that you're getting the finest seamless pipes and tubes.
Extensive Range and Customization: We offer a broad range of collections to cater to diverse industry requirements. We have you covered, for various dimensions and sizes. Our goal is to provide tailored solutions that perfectly match your project requirements.
Adherence to International Standards: We strictly adhere to international standards for dimensional accuracy and tolerance. You can rely on our seamless pipes to meet the highest industry standards, ensuring reliability and durability in your applications. Trust our commitment to delivering products of unmatched quality.
Innovation for Excellence: We believe in staying ahead of the curve. That's why we invest in innovation and continually strive to deliver world-class results. By leveraging the latest technologies and manufacturing processes, we ensure our seamless tubes and pipes are at the forefront of the industry.
Choose Anand Seamless Tubes as your seamless pipe supplier and experience the difference. We are dedicated to providing exceptional products, outstanding customer support, and prompt after-sales service. Contact us today, and let us fulfil all your requirements with excellence.
lATEST BLOG
Applications of Cold-Drawn Tubes in the Automotive Industry
In the dynamic and ever-evolving landscape of the
Complete Guide to Cold-Drawn Seamless Tubes
In today's industrial landscape, the demand
Carbon Steel Seamless Pipes in the Oil and Gas Industry
The oil and gas industry relies on a vast network
Applications of Mechanical Tubes in Different Industries
In today's rapidly evolving industrial lands
Alloy Steel Tubes Vs. Carbon Steel Tubes: Know the Difference
When it comes to selecting the right material for