Seamless Tubes

A seamless tube, also known as a seamless pipe, is a tube/pipe with no welding seam. It is made of a single piece of metal without any joins. Each end of this tube is connected to another tube without any welding joint. The ends have threads that help in forming a connection with other tubes.
Seamless tubes are made from a solid cylindrical piece of alloys or metals such as stainless steel, tungsten, carbon steel, etc. known as billets. These billets are heated, pierced through the center, and rolled over a form until they take the shape of a hollow tube. The wall thickness of the tube is usually specified as per the requirements of the customers.
Major suppliers of these billets are from Venezuela, Egypt, Qatar, Saudi Arabia, United Arab Emirates, and Oman.
The industries where safety requirements are very high, tend to use seamless tubes. Because these tubes have better pressure capacity, strength is higher as compared to welded tubes.
The seamless tube is a hollow cross-section pipe with no seams. Usually, the maximum diameter of a seamless tube is 650mm and the minimum is 0.3mm. The thickness of the wall depends on the usage.
As there are no joints in a seamless tube, the working pressure can remain much higher as compared to the welded tubes of same size where same material is used. Seamless tubes prevent the probability of flaw and differences in malleability as it does not have any joints. These concerns are usually associated with the welded areas in welded tubes. Moreover, in seamless tubes, it is not required to test the weld strength. Therefore, these are more appropriate for significant and crucial applications.
Welded Tubes
Welded tubes are steel pipes made from long, coiled steel plates. These plates are cut into particular lengths that give flat rectangular sheets.
The rectangular sheets are converted into cylindrical shape tubes with the help of rolling machines. These machines work on a high-frequency electrical current that helps the sheets to melt and fuse together. In other words, the rolling application is the process that forges the welded seam or joint. The best part of this process is that no welds are visible in the finished product. And because of these joints, welded tubes are manufactured in long continuous lengths.
The welded sections are inhomogeneous that results in malleability, greater dimensional variation, and less corrosion-resistant feature. Therefore, drawing the tubes is required here. It reduces these deviations. It is a process where a tube is passed through a die.
The production process of welded tubes is simple with a variety of specifications. However, the strength of the tubes is comparatively lower than that of seamless tubes. As less drawing and strengthening is required in the process, the manufacturing cost also comes down.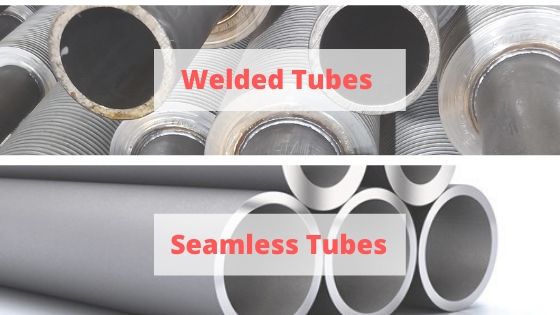 What is the difference between a seamless tube and a welded tube!
| Seamless Tubes | Welded Tubes |
| --- | --- |
| Raw material used – steel billet | Raw material used – hot rolled coil |
| Made of a single piece of metal | Various pieces of metal joined together |
| Have no joints | Made of joints |
| Higher in strength | Lower in strength |
| High corrosion resistant | The welded area is highly prone to corrosion attacks |
| Relatively shorter in length | Can be formed in long continuous lengths |
| Offers higher range of safety measures | Lesser range of safety measures as compared to seamless tubes |
| Can be formed one time in the rolling process | Made from steel plates through bending and various welding processes |
| Surface quality improves with polish after production | Better surface quality |
| Better pressure capacity | 20% less pressure capacity than seamless tubes |
| High performance | Low performance |
| Used with high-temperature & high-pressure applications | Used with low-temperature & low-pressure applications |
| CPE & Plug Mill technologies used to produce seamless tubes | High frequency induction welding technology is used for welded tubes |
| Expensive | Less expensive |

Anand Seamless Tubes Pvt. Ltd. is a leading manufacturer and exporter of various types of cold drawn seamless tubes, heat exchanger tubes, and finned tubes. We offer flexibility in terms of specifications and ensure that the product reaches our clients on time.
If you are looking to purchase high-quality seamless tubes at affordable rates, please call us at +91-9099996851. We'll be happy to guide you!
lATEST BLOG
Applications of Cold-Drawn Tubes in the Automotive Industry
In the dynamic and ever-evolving landscape of the
Complete Guide to Cold-Drawn Seamless Tubes
In today's industrial landscape, the demand
Carbon Steel Seamless Pipes in the Oil and Gas Industry
The oil and gas industry relies on a vast network
Applications of Mechanical Tubes in Different Industries
In today's rapidly evolving industrial lands
Alloy Steel Tubes Vs. Carbon Steel Tubes: Know the Difference
When it comes to selecting the right material for