Finned tubes are usually used in heat exchangers. But you may wonder what these finned tubes are and why are they used over normal tubes in these exchangers. Here's everything you need to know about finned tubes.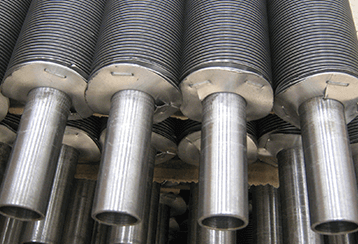 What Are Finned Tubes?
Finned tubes are elongated flat tubes that are made of aluminum cladded carbon steel and are provided with brazed aluminum fins. These tubes are used in a series in heat exchangers. The advantage they offer over ordinary tubes is that the fins offer greater contact with the liquid outside. This quickens the exchange of heat between the liquid inside the tube and the one outside it. With a normal tube, the rate of exchange of heat would be much slower.
Finned tubes are available in different shapes. They are available as oval tubes, round tubes, and flat tubes.
What Are Their Uses?
Finned tubes are particularly useful in the case of air heat exchangers. In an air heat exchanger, the heat transfer is to take place between a liquid and gas. With the heat coefficient of the airside being lower, a finned tube can be exceptionally helpful. A finned tube increases the surface area and thus helps in faster heat transfer between the components.
Example of Fin Tube Heat Exchangers
Fin tube heat exchangers are used in household appliances and industrial heat exchangers. Fin tube heat exchangers are used in air conditioners and car radiators. The purpose of using a finned tube in an air conditioner is to cool the air passing through it. In a car radiator, it cools the liquid in the tube with the air passing through in crossflow.
Advantages of Using Finned Tubes
Finned tubes offer several advantages:
Increase Heat Transfer Rate
The fins in a finned tube increase the surface area of contact. This allows it to quicken the heat transfer rate.
Improve Heat Transfer Coefficient
In an ordinary tube, the outer surface area is just about the same or slightly different from the inner surface area. In such a case, the fluid with the lowest heat transfer coefficient will drive the entire heat transfer rate. A finned tube increases the surface area significantly. This is particularly helpful when the heat transfer coefficient of the fluid inside the tube is greater than that of the fluid outside the tube.
Reduces Size of the Equipment and Makes Project Cost Efficient
Finned tubes can significantly increase the surface area. The use of a finned tube can cut down the number of tubes used in an application. This results in a considerable reduction in the size of the equipment. In the long run, this can lead to a decrease in the cost of the project.
If you are looking for high-quality finned tubes, you should consult the experts at Anand Seamless Tubes – leading finned tube manufacturers in Ahmedabad!
Reach Out to Us For Advice on the Right Products!
Anand Seamless Tubes offers a wide range of products including finned tubes, fin tube heat exchangers, etc. From high-quality seamless tubes to hydraulic tubes and from seamless pipes to mechanical tubes, we have a huge range of products. To know more you can call us at +91-9099996851 or send your queries to inquiry@anandseamless.com.
Also Read:

Reasons why Oil and Gas Companies Use Finned Tubes

G Type Fin Tubes – Features & Industrial Applications
lATEST BLOG
How to Find the Right Seamless Pipes Supplier
Seamless pipes and tubes are indispensable in nume
Advantages of Laser Welding in Manufacturing Welded Fin Tubes
Welded fin tubes are used in a variety of applicat
Cold Drawn vs. Hot Rolled vs. Cold Rolled Seamless Tubes: Which One to Choose?
Seamless tubes are widely used in various industri
Everything You Need to Know About Helical Finned Tubes for Heat Exchangers
Heat exchangers are devices used to transfer heat
Straight vs. Coiled Heat Exchanger Tubes: Which is the Best Option?
Heat exchanger tubes are a critical component in m